With a little bit of Google research and some time I think I'll have all of
LJ's Functional with Flare
moved over to blogger. I know I'm going to miss all the different types of templates LJ offered but all in all it will be a good move.
Today is the first day of warm rain. Not a warm morning that turned cold and rainy, but a hot sunny afternoon that started drizzling fat raindrops on steamy asphalt. It's a beautiful, light, summer rain. Currently the view from our apartment only highlights the dumpster and the landscapers pile of dirt, but you get the idea.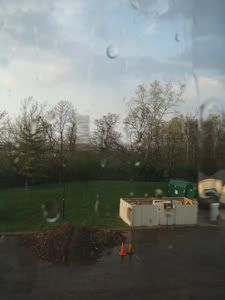 It's a perfect day for some homemade Tex-mex. I don't really like Mexican food but I've got a little Texan Padre in my blood and a random urge for tortilla soup, so I'm gonna give it a go.
And for a spot of sad news-- yesterday was
Hiro's
last day. My sweet, pent up, hyper, aggressive fish died. Due to a bout of overeating, he had been suffering from a broken swim bladder for the past 6 months or so. Without his swim bladder he couldn't float and sadly became a bottom dweller. The fish doc's said he was okay, but as much as Hiro liked to dart back and forth (unlike his Uncle Toshi) I knew he was down. It sucked to have Geoff flush him away, but I'm glad he's not just hanging out and waiting to die anymore. He was two years and one week old.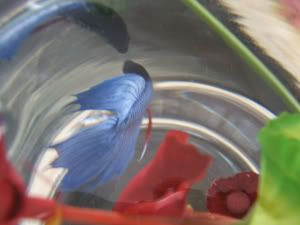 Goodbye little blue-- you will be missed.